Uniqueness of Timang Beach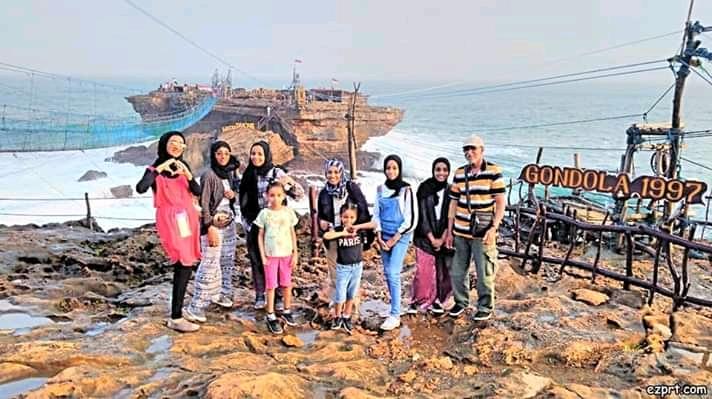 There are so many beaches ini Yogyakarta, every beach has her own beauty. The most popular and famous beach around ten years ago is Timang Beach, located in South east of Yogyakarta (Gunung Kidul Regency).
The way to get there is not easy as usual, no gain no pain. After long, up and down also tricky track (it is also slippery when rain season) we have still to rent a Jeep to make the trip more comfortable and save your car tires for way back home.
When you get there, the view will mesmerize you. The uniqueness is there is a big and high cliff and in front of the beach, in the middle of the sea there is also a huge and high cliff, just like a mini island.
The mini island is a habitat for lobsters, long time a go, local people swim and then climb the cliff to catch lobsters. Nowadays they build a mini gondola and long roof bridge to get there to the mini island. Both of mini gondola and bridge would be the best part of Timang Beach can offered to you.
The feeling when you ride the mini gondola is like; you are a little baby and just held by your mother and then she swings you to the left and to the right, but it is in the air just right above the ocean awwww cooll isn't it ?! That is way the beach called Timang (hold and swing a baby)
Just prepare your best camera to capture best moments in Timang Beach, keep your trash off the beach, the sea and the island go green and save the planet, cheers!